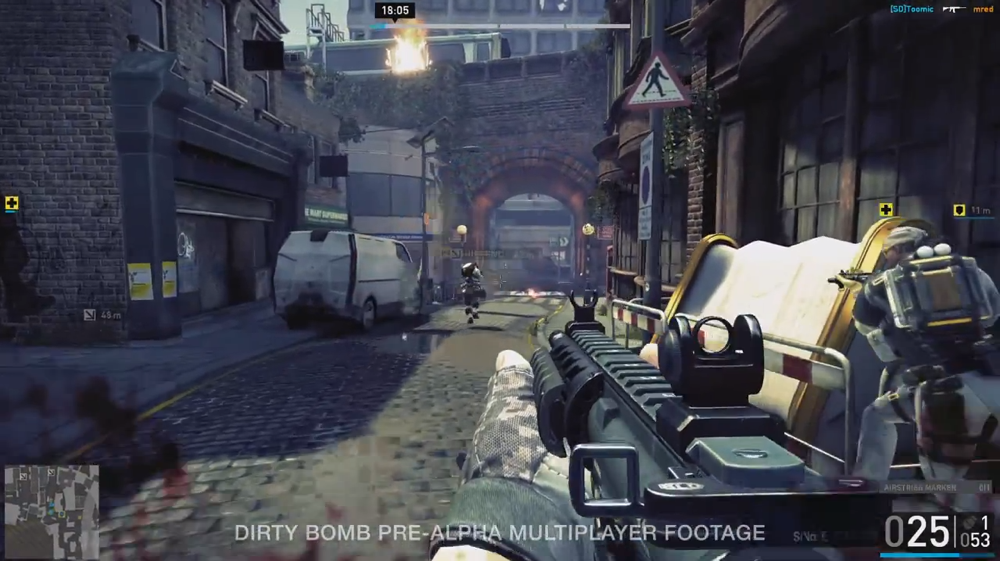 Dirty Bomb Review: Wait, there is an "I" in team?
Dirty bomb is an interesting mix. It's a game that tries to straddle several older successful shooters and ends up dancing between them all and falling flat on its face at times. Admittedly, when it isn't suffering from its shortcomings, our Dirty Bomb review shows that is is good fun. You'll assume the role of a mercenary as you work with other players on either offense or defense in a variety of scenarios. If this sounds familiar, it is. If it sounds fun, yup, it's that too. Dirty Bomb pulls some great ideas like that from titles like Counter-Strike and Call of Duty and mimics them well. Some of the issues arise when it tries to set itself apart. As you run around spraying bullets into your foes, you will notice the top notch graphics; a well-designed physics engine, gorgeous lighting and well refined textures will make you appreciate the environments.
The gameplay is fast, sleek and satisfying. There are 12 mercenary classes to choose from though only a few are available from the start. They can be combined with loadout cards that affect your weapons. The plus side to the free-to-play piece is you can simply grab a Dirty Bomb STEAM key and get going. The downside it, the developers have to earn money somehow, so you'll have to pay for extras with either cash or in-game currency. The mercenaries themselves follow familiar, well established patterns in first person shooters from the Medic to the Sniper, to the well-rounded soldier. Once you settle on one that fits well with your play style, I'd suggest just outright buying it; accumulating the 50,000 credits of in-game currency will be very time consuming. You'll only earn an average of several hundred once you finish each match.
The matches are 5 on 5 and feature scenarios such as protecting a convoy, opening doors or planting explosives at assigned destinations. The formula is fun but requires close coordination with your teammates. Speaking of which, teammates can be a bit fickle. Since the scenarios are based on 5 vs 5, if someone leaves, the odds will be impacted, big-time. Of course, like any online game, if one person leaves, the likelihood of others jumping ships goes up exponentially with each exiting player. If there's only you and one another squad mate left per say, you'll be absolutely throttled and left feeling like you just played your first Halo multiplayer match.
To combat, this, the developer Splash Damage created an uber competitive "stopwatch" mode where you will be penalized if you leave the match early. The first time you exit the game will simply close itself out and ask you to join the same match upon reloading. If you say no, it will close again forcing to reboot the program and also ban you from this mode for a short duration. It's a welcome addition but probably not enough to deter motivated players from leaving repeatedly. You'll also be penalized if the game crashes or freezes but thankfully this doesn't happen often in Dirty Bomb. Review your PCs tech specs to make sure you have the required hardware to run it smoothly and minimize the crashing.
At the end of the day, I'm a buyer of Dirty Bombs stock. At times it seems a patchwork of great games but I still enjoy moving quickly and fluidly through the maps and hunting down my enemies. There are improvement opportunities for sure, but if you overlook some of the subtle mistakes you'll find the advantages outweigh any downsides here.